A clean, well-maintained gun is a safer gun. We offer a variety of firearms maintenance and gunsmith services,ranging from simple cleanings to elaborate machining work and restoration.
GENERAL
GUNSMITH

LIST & PRICING
At Hammer Down Range, we strive to give the best gunsmith service in the greater Cincinnati tri-state area. A clean, well-maintained gun is a safer gun. We offer a variety of firearms maintenance and gunsmith services, ranging from simple cleanings to elaborate machining work and restoration.
Basic Cleaning
Including appropriate lubrication/oiling of moving parts and a complete safety check – $12.00 + $5.00 test fire
Detail Cleaning
A more thorough tear-down of your pistol or long gun. This is the perfect option for those who want an absolutely spotless gun – $35.00 + $5.00 test fire
Bore sight
21 paces
Rifle
Drill Tap for scope mount
Shotgun
Drill Tap for scope mount
Pistol
Sight installation
Revolver
Chamber Crowning
Shop Charges:
Hourly Rate – $45.00
Welding , Milling
& Lathe
Machine setup will be included
on the hourly rate
Minimum Charge
if no has been started
or not completed – $20.00
OTHER SPECIAL

GUNSMITH LIST
Bluing
Cerakote
Disassemble, clean, inspect, lubricate & reassemble.
Remove corrosion and touch-up finish.


Repair burred or damaged parts with files & stones.
Replace defective parts with factory-made replacements, hand-fitting as necessary.


Add after-market customization: sling-swivels recoil-pads iron-sights scopes grip caps butt plates
Repair and re-finish wooden stock parts.
Checker or re-checker grip areas.
Repair dented shotgun barrels.
Deepen or clean up worn or damaged engravings & markings.
Re-crown damaged muzzles on a lathe.
Install (solder) or repair rib on shotgun barrels, or repair double-barrel assemblies.
Check for excessive bore erosion.
Measure & correct head-space dimensions.
Troubleshoot and repair feeding, ejecting & firing problems.
Test-fire guns with conventional loads to ensure proper operation.
Fabricate wooden stocks to customer specifications and body dimensions. Fit same to existing receiver and barrel.
Glass-bed actions to stocks to improve accuracy.
Remove existing metal finish, and re-blue metal parts.
Cerakote
Fabricate replacement parts from metal stock.
Modify trigger-pull weight through careful stoning of trigger mechanism parts.
Fire proof-loads through weapons to ensure sufficient strength of parts under over-load conditions.
Replace worn barrels, which have fired so many rounds that they are no longer of the specified caliber (which leads to loss of accuracy).
Change caliber or cartridge of existing rifle, by changing barrel, and modifying receiver.
Re-cut rifling and change caliber of existing barrel.
Design and build complete rifles by fitting stock barrels to stock receivers; fabricating or purchasing additional parts as
needed, and fitting same to rifle. Fitting custom stock to same.
Design and build a complete rifle starting with several pieces of blank steel and a slab of walnut; using nothing more than
a lathe, saws, files, chisels, & rasps.
At Hammer Down Range, we offer bluing services for both steel and stainless.
Prices listed are for complete firearms, including bases, rings and sling swivel studs. Costs for refinishing individual parts can be provided at your request. Minimum charge is $25.
Return shipping with insurance and sales tax are additional.
Prices are reduced as metal prep-time is reduced, except for dip only
DIP Only
Your prep your parts will dip them for you – $95.00
If not prepped correctly the rate will be $45.00/hr for the required prep work.
Rifles, Pistols and Revolvers
Pricing is based on the job but ranges from $125.00 to $500.00
Bluing may be applied, for example, by immersing the steel parts of the gun to be blued in a solution of potassium nitrate, sodium hydroxide, and water heated to the boiling point. Similarly, stainless steel parts of the gun to be blued are immersed in a mixture of nitrates and chromates, similarly heated. Either of these two methods is called hot bluing.
There are many other methods of hot bluing. Hot bluing is among the most effective forms of bluing, providing the most permanentdegree of rust-resistance and cosmetic protection of exposed gun metal.
Rust bluing was developed between hot and cold bluing processes. It was originally used by gunsmiths in the 19th century to blue firearms prior to the development of hot bluing processes. The process was to coat the gun parts in an acid solution, let the parts rust uniformly, then the rust was karded (scrubbed) off, leaving a deep blue finish. The process was later abandoned by major firearm manufacturers as it often took parts days to finish completely, and was very labor intensive. It is still sometimes sued by gunsmiths to obtain an authentic finish for a period gun of the time that rust bluing was in vogue, analogous to the use of browning on earlier representative firearm replicas. Rust bluing is also used on shotgun barrels that are soldered to the rib between the barrels, as hot bluing solutions would dissolve the solder during the bluing process.
There are also methods of cold bluing, which do not require heated solutions. Commercial products are widely sold in small bottles for cold bluing firearms, and these products are primarily used by individual gun owners for implementing small touch-ups to a gun's finish, to prevent a small scratch from becoming a major source of rust on a gun over time. At least one of the cold bluing solutions contains selenium dioxide, to accomplish the bluing. Cold bluing is not particularly resistant to holster wear, nor does it provide a large degree of rust resistance. It does, however, often provide a very good cosmetic touch-up of a gun's finish when applied and additionally oiled on a regular basis.
Large scale industrial hot bluing is often performed using a bluing furnace. This is an alternative method for creating the black oxide coating. In place of using a hot bath (although at a lower temperature) chemically-induced method, it is possible through controlling the temperature to heat steel precisely such as to cause the formation of black oxide selectively over the red oxide. It, too, must be oiled to provide any significant rust resistance.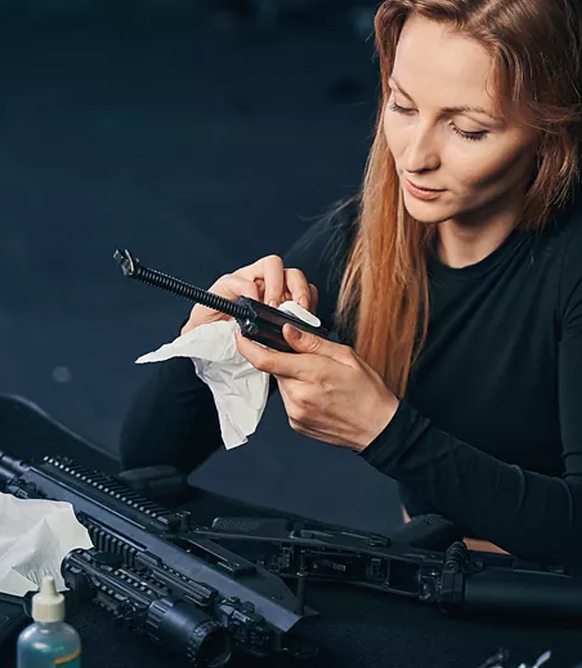 This may not be the way to do it, but works
Clean off all the oil with a decreaser like brake cleaner (product with hydrocarbon solvents) would do an excellent nice job.
Here is the active bluing-removal agent — white vinegar. See, bluing isn't all that protective after all. This is marked as being distilled and then diluted to 5% acidity.
Number of postings to various on-line gun forums where people reported doing this. The one that that stuck out was from a guy who discovered that vinegar removed bluing when the Taco Bell hot sauce dripped onto his gun because he was going to the range and carrying his gun and some tacos in the same paper bag. When he got to the range and discovered the mess, he wiped off the hot sauce and saw that the bluing came with it as Taco's Bell sauce lists vinegar as a primary ingredient.
Then pour in enough vinegar to completely submerge all the parts and wait.
The bluing started to come off after just about 15 minutes or so. The steel will turned orange-brown after maybe 20 minutes. Not entirely you will still see some patches of black.
This is what happens when the acetic acid in the vinegar is converting the very thin outer layer of black magnetite to the orange iron oxide of rust.
Remove each part every 20 minutes or so and wipe it down with a paper towel to remove the lifted oxidation. Then place it back in the vinegar bath.
The orange-brown oxide starts to come off with handling.
The bluing started to come off after just about 15 minutes or so. The steel will turned orange-brown after maybe 20 minutes. Not entirely you will still see some patches of black.
You can heat an oven to 250°F or 120°C and place the parts inside for about 20 minutes on a pan lined with aluminum foil.
The heat will dry the parts and leave some light orange rust deposits.
Bluing is most commonly used by gun manufacturers, gunsmiths and gun owners to improve the cosmetic appearance of, and provide a measure of corrosion resistance to, their firearms. Bluing also helps to maintain the metal finish by resisting tangential scratching, and also helps to reduce glare to the eyes of the shooter when looking down the barrel of the gun. All blued parts still need to be properly oiled to prevent rust. Bluing, being a chemical conversion coating, is not as robust against wear and corrosion resistance as plated coatings, and is typically no thicker than 2.5 micrometers (0.0001 inches). For this reason, it is considered not to add any appreciable thickness to precisely-machined gun parts.
Bluing only works on steel or stainless steel parts for protecting against corrosion. Because it changes the Fe into Fe3O4, it does not work on non-ferrous material. Aluminum and polymer parts are largely unaffected by bluing; no protection against corrosion is provide by bluing processes on them, although uneven staining of the aluminum and polymer parts can be caused by attempts at bluing.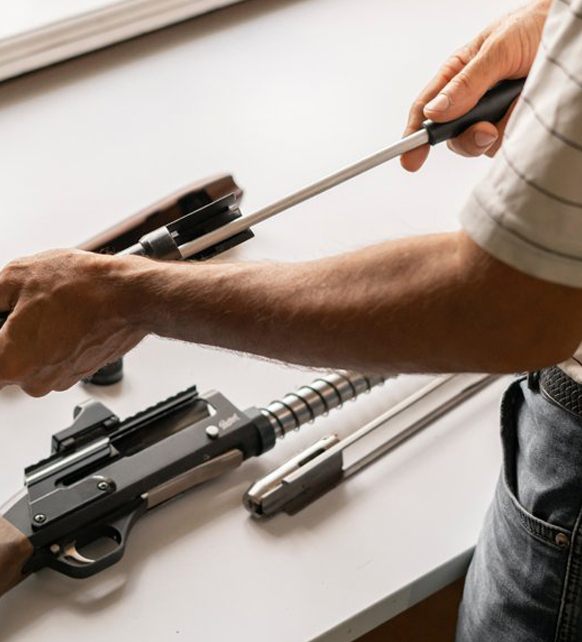 Holster wear will remove hot bluing over long periods of use; it will remove cold bluing over relatively short periods of use, from any wear areas that are "touched up" with a cold bluing solution.
Some prefer to call thin coatings of black oxide by the name gun bluing, and to call heavier coatings by the name black oxide, but they are both the same chemical conversion process for providing true gun bluing.
Browning is controlled red rust Fe2O3 and is also known as pluming or plum brown. One can generally use the same solution to brown as to blue. The difference is immersion in boiling water for bluing. The rust then turns to black-blue FE3O4. Many older browning and bluing formulae are based on corrosive solutions (necessary to cause metal to rust), and often contain cyanide solutions that are especially toxic to humans.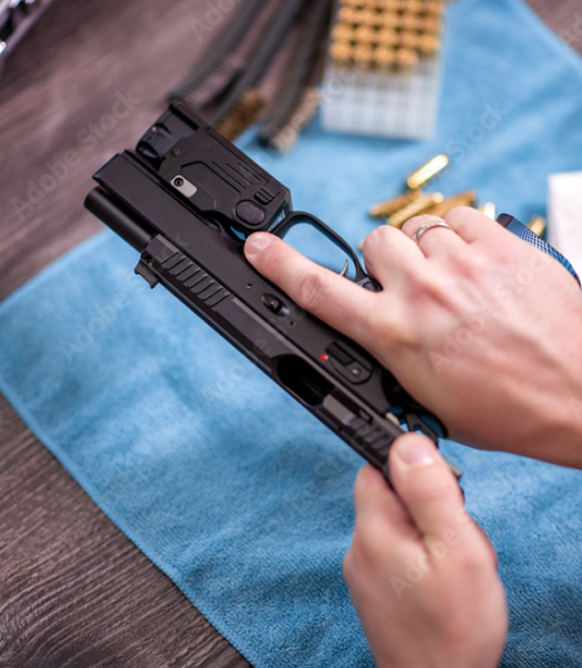 Bluing touch ups give any gun a "new look" with its ability to de-rust the metal (sort of like putting a penny in a cup of Cola). Even though the process is "cold" bluing, we use heat–along with a lot of coats to give a better look.
"44/40 has long been one of the cold-blue standards in the industry and we here at Brownells are delighted to have purchased the original, high-speed formula and the legendary name and brought it back to its many fans.
44/40's familiar bluing action is almost magic; simply dampen a patch with 44/40, wipe it on and wipe it off immediately with a dry one. The coloring action happens instantly and the color penetrates deep into the metal for a long-lasting finish. There's no need to soak or rub for long periods. Surface preparation's easy, too; for scratches, just clean and degrease as you normally would and apply 44/40. As a blue for external/internal parts and pieces, the procedure is just as easy. Bring the surface to the finish you want, clean it and wipe-on, wipe-off. 44/40 will do the job beautifully. And, it's great for other jobs around the shop, too. The quick action and dark color makes 44/40 an excellent substitute for traditional layout fluids. The steel is darkened quickly so your layout lines will show up. There's no surface buildup of "paint" to foul up dimension readings and nothing to peel or flake off. Coat lathe and cutting tools before sharpening so you can see where you're grinding. Use 44/40 to age brass and copper in restorations, or just to reduce glare and reflection. You can literally do thousands of jobs with 44/40!
You need 44/40 on your bench; the highly active formulation makes sure that you're going to be able to expertly touch-up virtually any non-stainless gun steel and professionally blend the repair into the original finish.
For the gun shop or store, there's the proven, "sells-itself" display. It comes with a dozen, 2 ounce bottles of 44/40 in a brightly labeled, attention-getting, countertop display tray, along with a test bottle and a supply of nails so your customers can dip into 44/40 to see just how quick and easy it really is. Plus, you get cleaning patches for the "wipe-off" part of the procedure." (www.brownells.com).